** SEARCH CONCLUDED ** E-COMMERCE DIRECTOR - FLIXMEDIA
Flixmedia is part of Advantage Smollan group of companies, a jointly-owned holding company of Advantage Solutions (Advantage) and Smollan Group that provides unified sales, marketing, and technology solutions for consumer goods manufacturers and retailers across Europe.
Established in 2005, Flixmedia is a fast growing, global organisation leading the provision of online content solutions for the world's largest consumer electronics manufacturers and retailers. We offer global syndication of Brand produced digital content and award-winning production of online Augmented Reality experiences.
Flixmedia are proud to be a trusted partner for many blue chip brands and retailers in helping both sell more. Clients trust us to create and consolidate digital online content for them, by delivering their content to the product pages of hundreds of their most important global retailers, we help to ensure seamless brand consistency across international regions.
What you can expect at Flixmedia: A fast-paced environment. Energy is required, but no suit is needed. Everyone is focussed on succeeding – for the team, for themselves and for the business. Cross-functionally and throughout the company, everyone has common goals and aspires to be their best. You'll be surrounded by smart and creative people and you'll be motivated to pursue your ideals. At Flixmedia we challenge conventional wisdom and refuse to accept that something cannot be done.
JOB ROLE
This is an exciting opportunity for a client-facing e-commerce specialist to bring their years of marketing experience and natural flair to the table, joining a dynamic leadership team and company that is consistently chosen by the world's leading brands and retailers as a strategic partner.
Reporting directly to the CEO, you will be working on a global basis with our blue chip client base, supporting some of the world's best-known brands and retailers. This is a new role and a unique opportunity to launch, establish and grow a new e-commerce service offering for our retail clients, to help them acquire, convert and retain more customers.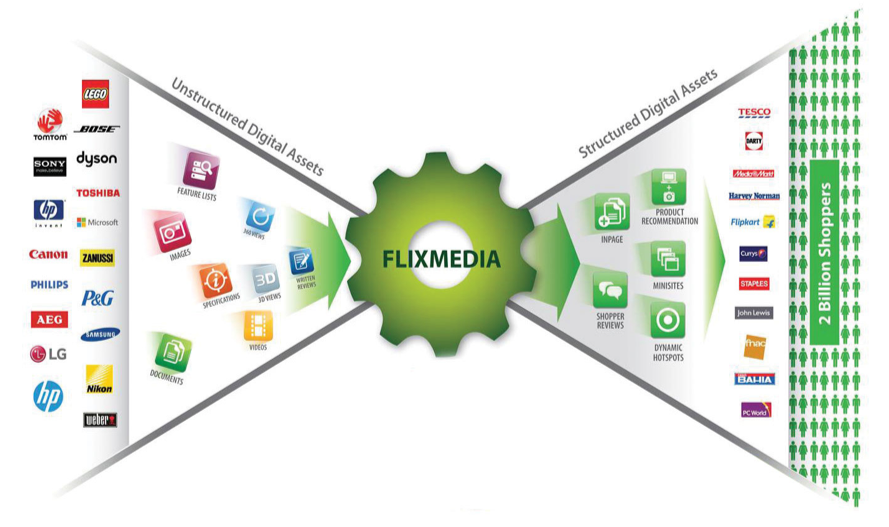 As E-Commerce Director, you will:
Be an industry expert with deep knowledge of digital marketing, SEO platforms and analytical tools that impact the growth of online sales channels on behalf of our clients
Forge key strategic relationships with our retail clients and deliver successful e-commerce solutions for these clients
Play an active role as part of the Leadership Team – helping shape a compelling and differentiated go-to-market strategy and develop our new product line
Working and collaborating across the group business units, you will manage key internal relationships in order to effectively influence and drive the priorities of the e-commerce offering
Collaborate with the Flixmedia Sales team to help develop plans to achieve near and long-term retail sales targets
Experience / Attributes Required
At least 8 years hands-on experience in an e-commerce (or similar) role, in a high-performing, customer-centric environment
Previous experience of executing a successful commercial strategy from concept, through to business plan execution, generating significant growth.
International track record of successfully acquiring and cultivating relationships with blue chip retailers and brands
Be the go-to industry expert for e-commerce solutions and role models best in class reporting, analytics, and insights across e-commerce
Held an active or consultative role in a company's e-commerce transformation, through the use and promotion of market research, technology and commercial partnerships
Proven track record of successfully delivering e-commerce solutions for retail customers from conception to closure. Experience of complex technical analysis, ideally e-commerce, including integrations, specification and implementation
The ability to understand the nuances of sophisticated e-commerce platforms and the capability to match these to customers' requirements and aspirations.
Excellent verbal and written communication skills and a naturally collaborative style and hands-on approach to work Exceptional planning and organisational skills, ability to lead projects and work with cross-functional teams and/or third-party partners
Highly numerical, with the ability to budget, forecast and manage a p&l accurately
Location: London
To apply, please send CV to kate.mason@hartmannmason.com